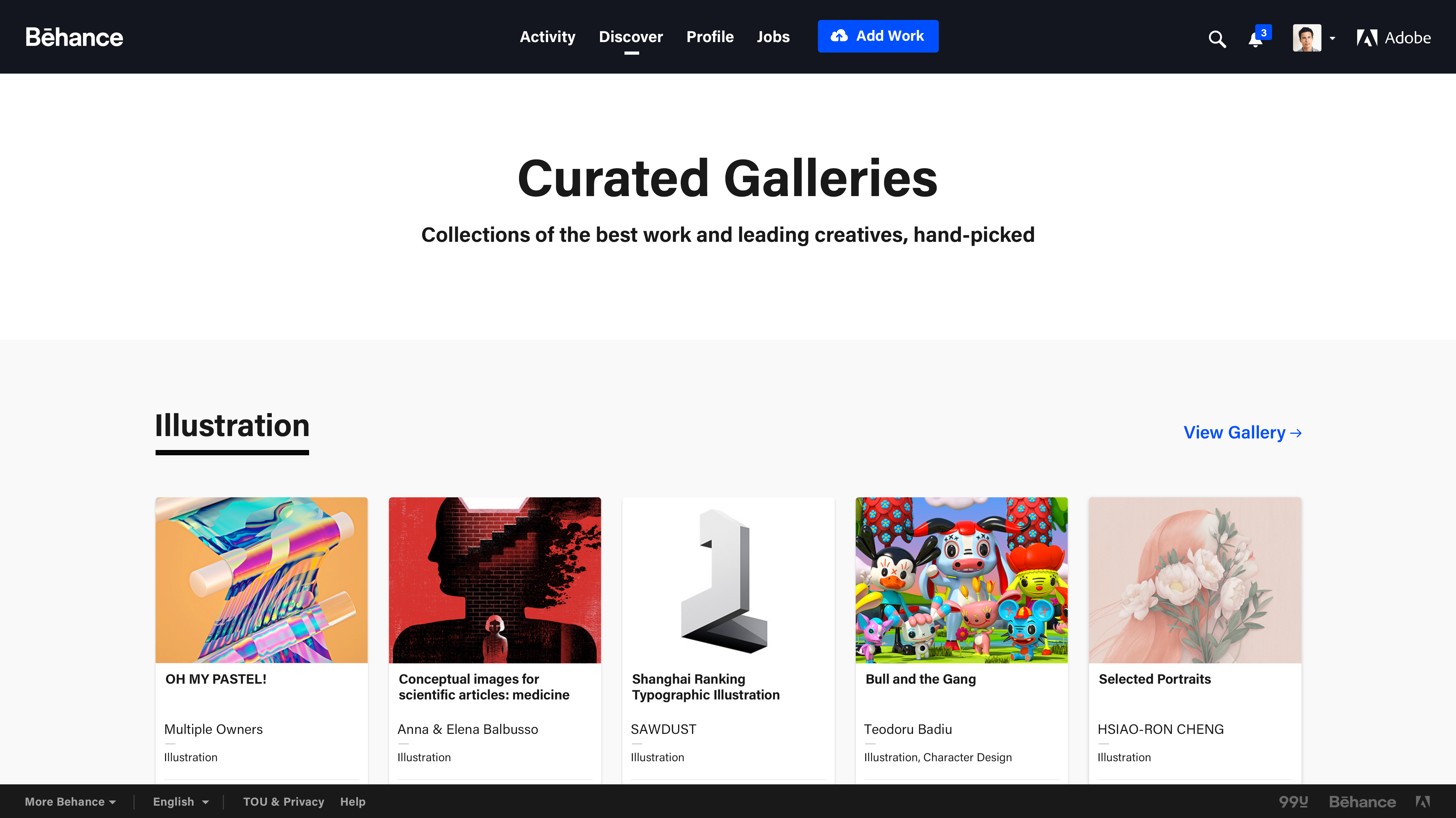 Curated Galleries

Curation is crucial to Behance—everyday, the Curation Team handpicks the best work from across the network. We built Curated Galleries to showcase the best work across the wide array of creative fields on Behance.

Before Curated Galleries, Behance's curated collections were scattered across multiple separate websites, called Served Sites, each with a separate identity. These sites were isolated from the rest of Behance and didn't leverage the discovery capabilities and the community on Behance.


My project was to design a new showcase of work that was integrated with Behance and that creatives would aspire to be featured in, as well as making it easy for viewers to discover work relevant to their interests.


The creative fields represented by Curated Galleries range from more than a dozen disciplines, from graphic design and photography to architecture and fashion. Within the gallery, there are more specialized categories to make the browsing experience easier.

In the transition to Curated Galleries, some Served Sites were consolidated into higher level categories to establish a consistent hierarchy between creative fields. For example, Toy Design Served, Character Design Served and Illustration Served were combined become part of the Illustration Curated Gallery.



I also worked to simplify the many different project groupings we had under Behance's Discover section, such as sites for schools and organizations and sites featuring work made with Adobe tools. We decided to group everything that was not a Curated Gallery into a section called "Powered by Behance", which I also gave a visual refresh.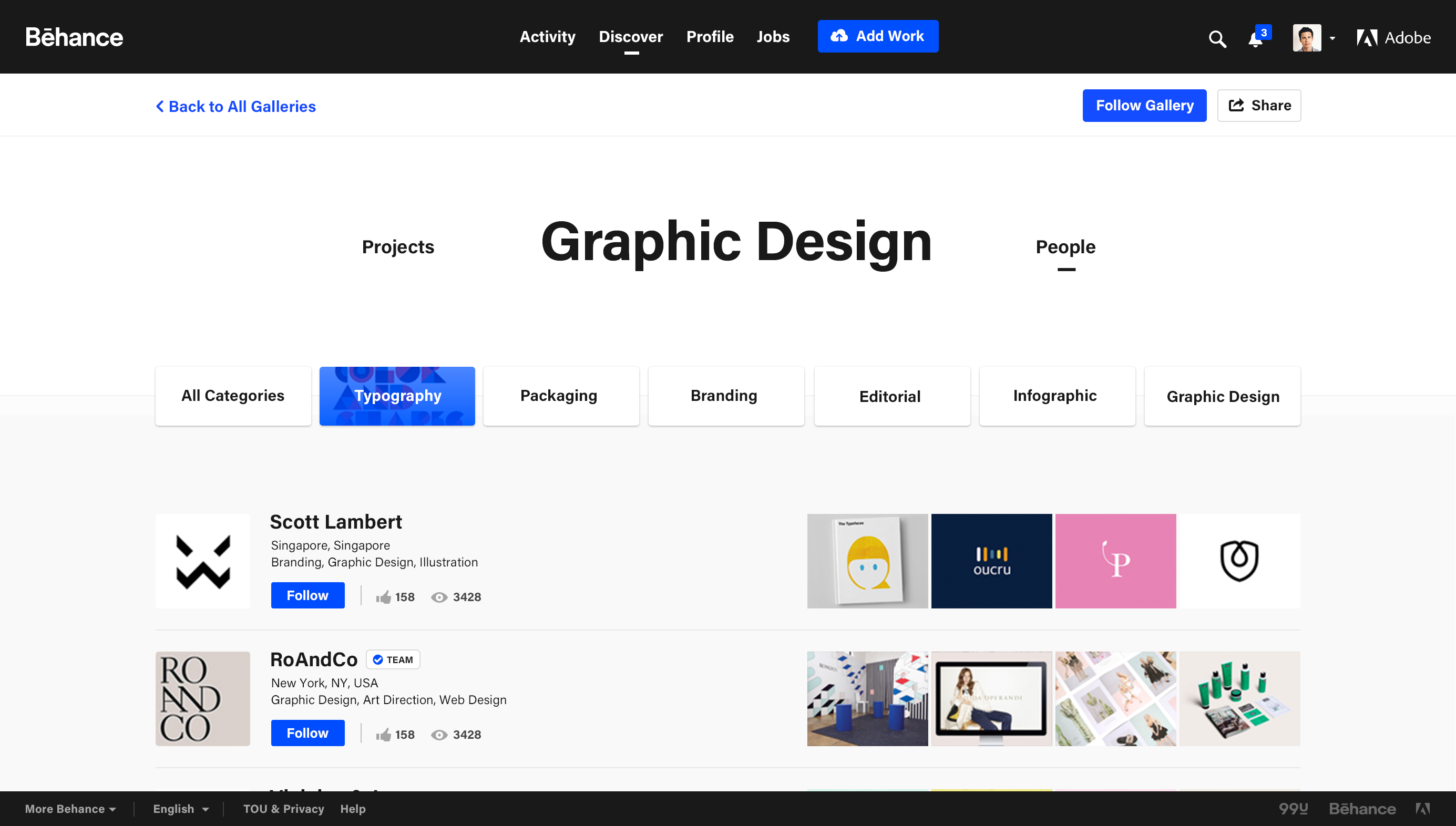 Behance users can follow a Curated Gallery. This is especially for onboarding new users, filling their activity feeds with high quality projects everyday. Within a Curated Gallery, users can switch between projects and people, providing a one-stop destination to top creative professionals and their work.

When a user's project is featured in the logged out homepage of Behance, the Curated Galleries, Adobe Tool Galleries, or the School and Organization Galleries, their project receives a ribbon, which is also displayed on their profile.

The ribbons are iconic on Behance, and much of the community aspires to receive them—members who get featured love to show them off. Some community members even create their own ribbons to feature on their project covers.

As an extension of my work on Curated Galleries, I designed new ribbons, as well as updating older ones. My aim was to unify the visual language of the ribbons while establishing a hierarchy between them that was not being expressed.

For example, the prestigious Best of Behance ribbon—which is only awarded to projects featured on Behance's front page—was often lost among other ribbons. The new ribbons received a lot of attention from the community.

Today, Curated Galleries are an important part of Behance. They are prominently featured in Discover and help to onboard new Behance users, as well as appearing in other Adobe products. This work on Curated Galleries provided a foundation for future updates like Adobe Tool Galleries.


Credits:
Zach McCullough — Principal Design Manager
Jeannie Huang — Designer (Adobe Tool Galleries Update)
Oscar Ramos Orozco — Curator
Nami Berglund — Curator
Matthew LeBrun — Software Development
Dorcie Lovinsky — Software Development
Joe Sepi — Software Development
Ian Sugerman — Product Analyst