AdobeLive on Behance

AdobeLive is a livestreamed show featuring creative professionals ranging from user experience designers, graphic designers, illustrators, and motion designers. During the broadcast, they complete a project and discuss their process with the host and a live audience.

The Behance community can interact with the professionals live while getting a behind-the-scenes look at how they work. My role was to design the user-facing AdobeLive experience on Behance, as well as the admin panel for the AdobeLive team.

Viewers can chat with each other and interact with the guest and host. In the Info tab, they can learn more about the featured creative professional, follow them on Behance, and see the tools used in the livestream. While following the livestream, users are prompted to create their own work in the Challenge tab, where they can submit it for the chance to win a prize.

Audience members can subscribe to email updates from the AdobeLive team. When there is no live show, we display a playlist of past livestreams that the AdobeLive team sets in the admin panel. It was important to display information about the next live show prominently so that there would be no confusion about the replay being a livestream.


In the Schedule tab, viewers can see the upcoming livestreams. I was also responsible for designing admin features for the AdobeLive team, enabling them to schedule livestreams, input information about the broadcast, create a custom tab, and send emails.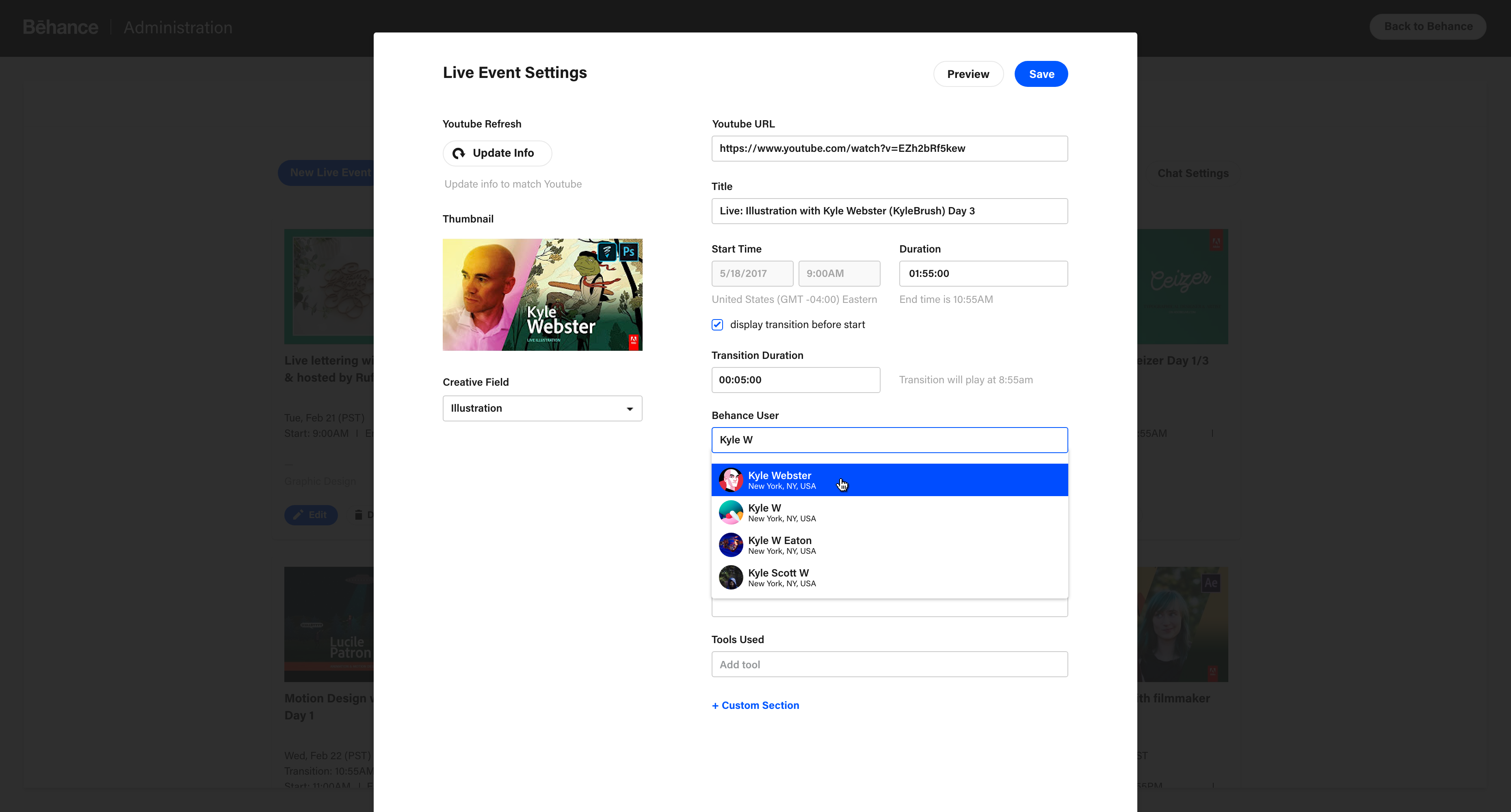 This is an ongoing project.

Credits:
Zach McCullough — Principal Design Manager
Michael Chaize — Engagement Strategist (AdobeLive)
Leigh Cooper — Community Engagement (AdobeLive)
Alex Garipian — Software Development Manager
Mike Mase — Software Development
Justin Medoy — Software Development
Erik Erikson — Software Development
Erin Depew — Software Development
Yuriy Nemstov — Software Development
Pamela Wong — Project Management
Ian Sugerman — Product Analyst
Alison Thornsberry — User Research